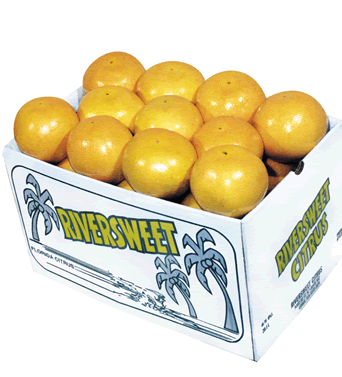 Raise more money with Riversweet Florida Citrus!
Riversweet Citrus provides schools, churches and other nonprofit organizations with the freshest fruit available from Florida. Raise $10,000 - $12,000 per truckload, easily and risk free! We have been serving non profit organizations for 25 years and look forward to working with your organization.
Raising money has never been easier. Riversweet's new online fundraising system allows you to create a customized online ordering page for your organization. Upload your logo and choose your colors, then follow your fundraiser's progress with our detailed, real-time reports.
Fudge products available year-round!
Enhance your yearly fundraising with our delicious homestyle fudge products, available year-round. Available in half-pound tubs or one-pound collector tins, our delicious fudge is available in a number of varieties and does not require refrigerated shipping.

Order Direct!
You can order Riversweet citrus and fudge products directly from Florida! All products will be shipped UPS directly to your door.
If you are visiting Riversweet to support a specific organization, please be sure to enter that organization's custom web page into your browser. Any sales through our Order Direct store will not be attributed to a specific organization.