Why Choose Riversweet Citrus Fundraising?
Our program has been designed to provide our clients with the highest quality service and products. At the same time we seek to keep the amount of time that your personnel must spend on our program to a minimum.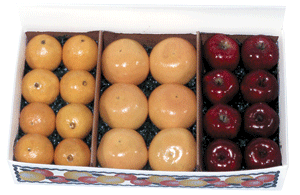 We ship only Premium USDA #1 citrus fruit from packing facilities located in Florida's world famous Indian River Citrus District.
All of our products are shipped in refrigerated trailers and are guaranteed to arrive fresh.
Our products are moved from the tree to your table in the shortest period of time that the law will allow.
All products are shipped fresh. We never use any type of cold storage facilities whatsoever.
We ship in color coded cartons so that you can easily distinguish one variety from another, thereby simplifying your distribution process.
We transport our products using private freight carriers, most of whom are able to track their trucks using the latest satellite systems.
We offer a quantity discount of $200.00 on all full truckload orders that are delivered to the same location.
If your group can postmark your payment within 10 days AFTER DELIVERY, then we will issue you a rebate payment equal to 1 percent of your total order.
Our personnel are available to you 24 hours a day so that you may deal with us at the most convenient time for you. No need to wait until the next morning if you find you need additional cartons to complete your order.
We encourage our clients to place their orders over the Internet to simplify the order taking process and minimize the possibility of errors occurring.
We prepare a loading diagram with each order so that you can locate each carton before you begin to unload the truck. This will reduce the amount of work you have to perform in unloading the truck and counting the order.
We confirm each order in writing to minimize the possibility of any errors occurring. You will receive the written confirmation at least 7 days prior to your order being packed.
We ship mixed varieties as well as apples, pears and even fudge products so that you may offer your customers a wide variety of products.
Riversweet has been supplying schools, churches and other non profit organizations with fund raising citrus for over 25 years. Our program is built upon the constant feedback and suggestions that our clients supply us with.
Our personnel are always just a toll free call away from you at any time. If you have a question or a problem, it will always be taken care of RIGHT AWAY!
No one ever walks away from RIVERSWEET CITRUS unhappy. If there is ever a problem WE WILL ALWAYS MAKE IT RIGHT! We want your fundraising program to go as smoothly as possible, and will do everything we can to make it easy for you.